No waiting rooms. No driving. No quicker way to see a health care provider.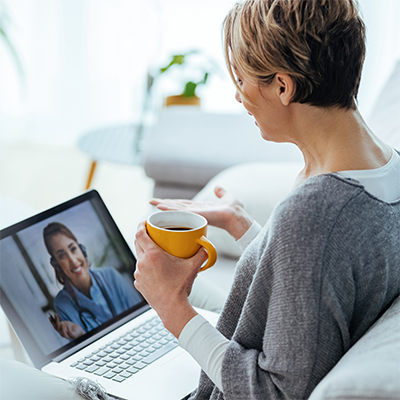 The Center for Family Medicine televisit service makes seeing our health care providers easier and more convenient than ever before. Televists, also called telehealth, allow you to have an appointment with a health care provider from wherever you are; on your smartphone, tablet or computer. Virtual visits can save you time, allow you to avoid crowded waiting rooms and, in some cases, even save you money. Most health insurance, Medicaid and Medicare plans cover some, or all, of televisits.
For all emergencies or serious injuries contact your physician directly or visit the nearest emergency department.
televisits are ideal for conditions such as:

Minor illnesses
Minor injuries
Sports injuries
Headaches
Sinus infections
Asthma
Infections
Rashes
Allergies
Mental Health
Follow up care
Acid reflux
Cold sores
Non-life threatening conditions

How to schedule
your televisit:

Create an account. You do not need to be an existing Center for Family Medicine patient to create an account. Your information is completely secure and can be used for future visits.
Complete a simple questionnaire to describe your symptoms, medications you are taking and your health history.
Choose a provider you would like to see or choose next available health care provider.
Schedule your appointment.

You can also call the Center for Family Medicine at 605-339-1783 to see if telehealth is right for you and we'll help set up your televisit.
Telehealth services are available for existing Center for Family Medicine patients,
and are suitable for every member of your family!