Teaching Independence Through Cooking in Young Children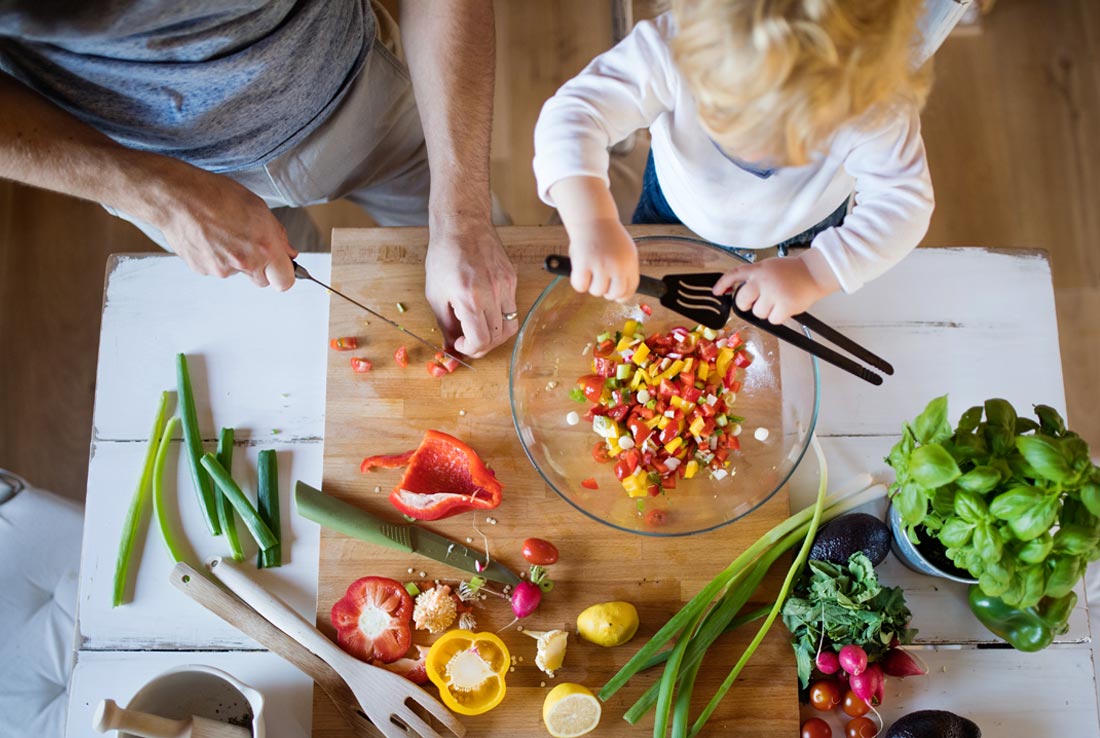 It is not what you do for your children, but what you have taught them to do for themselves, that will make them successful human beings – Ann Landers.
Cooking is a fundamental part of self-sufficiency. Children must grow up and learn to cook to maintain a healthy diet of something besides Spaghetti O's and Ramen Noodles. They see their parents cook every day. Children are great imitators and love to do what their parents do. Here are a few recipes that kids can cook for breakfast that they can be successful at and have a sense of accomplishment at what they have made. 
Fruit, Granola, Yogurt Parfait (age: 3 and up)
Ingredients: 
Fruit (berries, peaches, bananas, etc.)
Granola
Yogurt
Directions:
Scoop one or two spoonfuls of yogurt into a tall glass. Add fruit and granola. Repeat until glass is full, layering to the top. 
This recipe is ideal for young children, they have a choice of their favorite fruits (which means they are much more likely to eat it!)
If they make a mistake (too much yogurt, too much fruit, no layers, etc.) It will taste just fine.
Children can learn skills such as measuring, cutting (yes, even a 3-year-old can use a knife. Just supervise and give them a knife that isn't too sharp,) washing fruit, not to mention the great opportunities for discussion about healthy foods and how to prepare them correctly. 
Omelet in a bag (age: 6 and up)
Ingredients: 
Eggs
Milk
Cheese
Peppers (green, red, or yellow)
Tomatoes
Anything else you like in your omelet
Instructions: Crack eggs into a gallon size Ziploc bag. Add a splash of milk, cheese and any other ingredients you would like in your omelet. Zip the bag up tight and mix together by 'squishing' the bag. Place in boiling water, zip side up for 10-15 minutes until eggs are set. Enjoy!
Children can learn essential cooking skills such as boiling water, cracking eggs, grating cheese. They will be so proud of their newfound skills, and they will be able to help with far more kitchen tasks once they learn these skills.
German pancakes (age 8 and up)
Ingredients 
2 tbsp Butter
6 large Eggs
1 cup Flour
1 cup Milk 
1/2 tsp Vanilla
Turn oven on to 350. Melt butter in 9 x 13 pan. Mix remaining ingredients together and pour over melted butter. Cook for 15 minutes or until set. 
Children this age can start to learn to use an oven. They can learn to turn it on, heat it up, and how to safely put in and remove pans from the oven. 
Teaching your children to cook when they are young and interested really is the best time to learn these skills.
Inspire a love of cooking in them, and their newfound skills will boost their confidence and grow their self-esteem.