Sun Safety Tips to Protect Your Family from Harmful UV Rays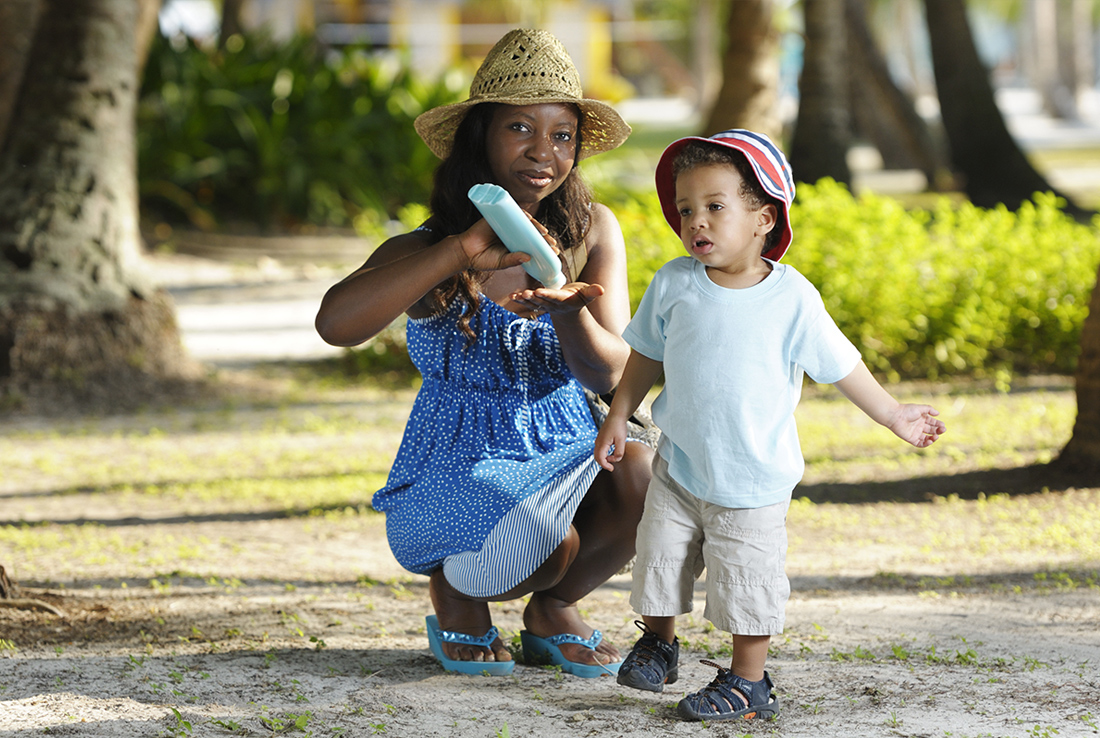 When the weather starts to warm up, many people head outside to enjoy the sun. However, too much exposure to the sun can lead to sunburn, skin cancer, and other harmful effects. Here are some sun safety tips to keep your family safe from the sun's harmful UV rays:
SPF Protection
Sunscreen is one of the best ways to protect your skin from the sun's damaging rays. According to the FDA, you should apply sunscreen with an SPF of 15 or higher at least 15 minutes before you head outside. Fair-skinned people should try to use sunscreen with an SPF of 30-50. Sunscreen is not recommended for infants 6 months or younger, because their skin is more sensitive and may be susceptible to side effects such as rashes. Infants should be kept out of direct sunlight and covered in light clothing. Keeping a hat on your little one and remaining in the shade or covered will offer them a safe alternative to sunscreen.
It's important to apply sunscreen every day, even if you only plan on being outside for a short time. For the best sun protection, make sure to reapply your sunscreen every 2 hours. If you're swimming, sweating, or haven't applied sunscreen in the last few hours, reapply it according to the instructions on the product. Make sure to cover all exposed areas of your body each time you reapply.
Not all sunscreens are created equal. Make sure you are using a broad-spectrum sunscreen. A broad-spectrum sunscreen will protect you from both UVA and UVB rays. If you find you are struggling to apply enough sunscreen, try using a water-resistant formula or using a sunscreen with an SPF higher than 30. Remember to check the expiration dates on all your sun lotions, creams, and sprays.
Time of Day
The sun's UV rays are most intense during the hours of 10 a.m. and 2 p.m., so you should protect yourself and your family during those times by staying hydrated, having access to shade, and covering up if possible. These hours are when the sun is usually most powerful, but not the only time the sun can harm you. It is important to protect yourself anytime you are in the sun.
Skin Cancer
Most skin cancers are caused by overexposure to ultraviolet (UV) rays. UV rays are present on both cloudy and sunny days. UV rays are also stronger during the spring and summer months unless you are close to the equator, where UV rays are strong year-round. Sunburn and skin damage from the sun can cause skin cancer many years after exposure, however, you can protect yourself while enjoying time outdoors.
The American Cancer Society suggests using the catchphrase "Slip! Slop! Slap! and Wrap!"
Slip on a shirt
Slop on sunscreen
Slap on a hat
Wrap on sunglasses (to protect the eyes and the skin around them)
Seeking shade and keeping yourself covered with light clothing, a hat, sunglasses, and sunscreen can help you enjoy sunny days. People who get too much UV exposure are at greater risk of skin cancer in their lifetime, but that doesn't mean you need to stay inside.
Sunscreen is important to protect your skin from the harmful effects of the sun. It's also important to remember that sunscreen doesn't work if you're covered in sweat or water, so make sure to reapply every two hours or as directed on the bottle. Remember to Slip! Slop! Slap! and Wrap! Use these sun safety tips while you and your family enjoy summertime outdoors. If you have concern about any sun damage or burns, contact Center for Family Medicine today.