Paying for Pregnancy: Resources Right Here in Sioux Falls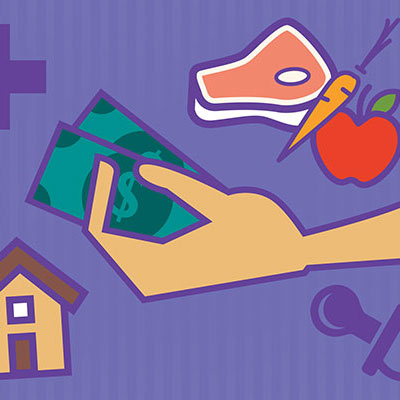 Pregnancy can be overwhelming and expensive. There are many costs that are associated with pregnancy, but there are various ways to help relieve the financial stresses. These resources are available for you right here in Sioux Falls.
Here are just a few of your local maternity financial assistance options.
Healthcare
Your team here at Center for Family Medicine is ready to assist you with the healthcare you need throughout and after your pregnancy. When it comes to securing the right insurance and paying for your healthcare, it's important to know your options.
Medicaid
Expectant mothers and children have financial assistance options available to them through the government's Medicaid and Children's Health Insurance program (CHIP).
Contact the regional office to see what assistance you're eligible for when it comes to paying for your insurance.
Get Started
Sioux Falls Medicaid and Children's Health Insurance Program
811 E. 10th St., Dept. 1
Sioux Falls, SD  57103
605.367.5473
Nutrition
When it comes to feeding yourself and your family members, both during and after your pregnancy, you have a few options ready and available to you right here in town.
WIC (Women, Infants and Children Program)
The state's Women, Infants and Children (WIC) program is meant to offer healthy and nutritional food options to families who are on a tight budget. If you meet certain income and residency standards, the program can provide you with vouchers for milk, eggs, fruit, vegetables, juice and even baby food and formula.
Get Started
Minnehaha County WIC Services
1200 N. West Ave.
Sioux Falls, SD  57104
605.367.5228
Feeding South Dakota
A state organization focused on fighting hunger, Feeding South Dakota operates a food pantry right here in Sioux Falls. This location serves nearly 40,000 people in the area with donations meant to help out people who are struggling to get food on the table.
Get Started
Sioux Falls Food Pantry
3501 N. 1st Ave.
Sioux Falls, SD  57104
605.335.6921
Utilities
Everyone has months in which paying the gas bill or the eletric bill can be difficult. And when you're spending money to take proper care of yourself and your baby throughout your pregnancy, your budget might be especially tight. Luckily, the state offers a Low-Income Energy Assistance program meant to relieve these stresses. If you meet certain income standards, you can get financial assistance in keeping your heat on, particularly in those cold winter months.
Get Started
Low-Income Energy Assistance
605.773.3766
Wages
One thing that's important to keep in mind when you're a working, expectant mother – your workplace rights are very important. The South Dakota Division of Human Rights dictates that expectant mothers are entitled to work to the best of their abilities and entitled to the same level of leave that someone would receive for paid disability. (Check out this U.S. Equal Employment Opportunity "Pregnancy Fact Sheet.") If your pregnancy requires you to be away from work for medical reasons, you're entitled to have your job waiting for you once you've recovered.
Learn Your Rights
South Dakota Division of Human Rights
700 Governors Drive
Pierre, SD 57501
605.773.3681