X-Ray
Get A better look at our technology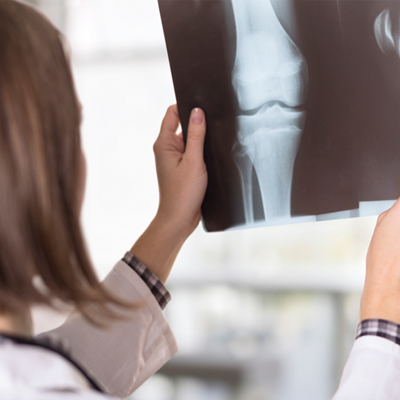 Center for Family Medicine provides in clinic x-ray, radiology and ultrasound services to save you time and possibly unnecessary suffering. Our expert team ensures your results arrive quickly and accurately to get you knowing or healing faster.
How does it work?
You can basically think of an x-ray machine as a camera. But instead of picking up on visible light, it looks inward to see the structure of your body. Things such as bones, tumors or other dense materials show up as white or light-colored in the results, because they absorb the radiation from the machine. Breaks in your bones, however, let the radiation pass through and show up as dark.
Are there any risks involved?
The amount of radiation your body is exposed to during an x-ray is small, and any concern over cell damage or mutation is extremely low. In addition, you are protected from this by a shield that we require all patients to wear while getting an x-ray. However, if you're pregnant or might be pregnant, we may consider an alternate test just as an added precaution.
To learn more about the Center for Family Medicine call us at 605-339-1783, or click here to schedule an appointment.